The revolution starts here.
With a 35-metre yacht that pushes boundaries and redefines standards.
With her sporty nature and extreme agility, elegant style and a razor-sharp focus on making life on board as comfortable as possible, the Pershing GTX116 takes the experience at sea to a new dimension.
On the GTX116, 165 square meters of fully interconnected outdoor spaces will redefine the relationship with the water and allow for maximum comfort.
The first yacht of the new range will be painted in an elegant gray, the generous glass surfaces will flood the interior with natural light.
Of particular note are the garage, which will have space for a tender over 5 meters long, a jet ski and water toys, and the exclusive 38-square-meter beach club with a teak deck.
The forward living area, which can be accessed from the outside via the port walkway or through the glass doors from the bridge, has room for a Jacuzzi. The 41-square-meter sundeck, accessed by two exterior staircases on either side of the yacht, houses the second helm station and is equipped with spacious areas for common activities.
Reliability and comfort will be the keywords that define the interior of the new Pershing GTX116. With a design approach that ensures seamless connectivity, the exterior and interior areas become part of a single space that enhances the flow and quality of life on board. The large main cockpit, equipped with a sofa, dining table and cocktail bar for maximum comfort, leads into the open main living area, which includes a spacious lounge aft and a galley and dining area amidships.
Upon request, the living area on the port side can be fitted with floor-to-ceiling glazing that opens to a four-meter outdoor balcony, allowing even more contact with the water in the open air.
The first Pershing GTX116 features a five-cabin layout, with the full-width master cabin amidships, including two en-suite bathrooms, two VIP double cabins and two guest cabins, each with two single beds, all with en-suite bathrooms. The alternative is a four-cabin layout – master cabin, two VIP cabins and one twin cabin – plus the added benefit of a living area.
The GTX116's drive combines the thrill of speed and the pleasure of tremendous controlled power. The elegant dynamics of the GTX116 are based on the perfect interaction of three 1,800 hp MAN engines and state-of-the-art Pershing technology.
​
MAN V 12 1800 HP or MAN V12 2000 HP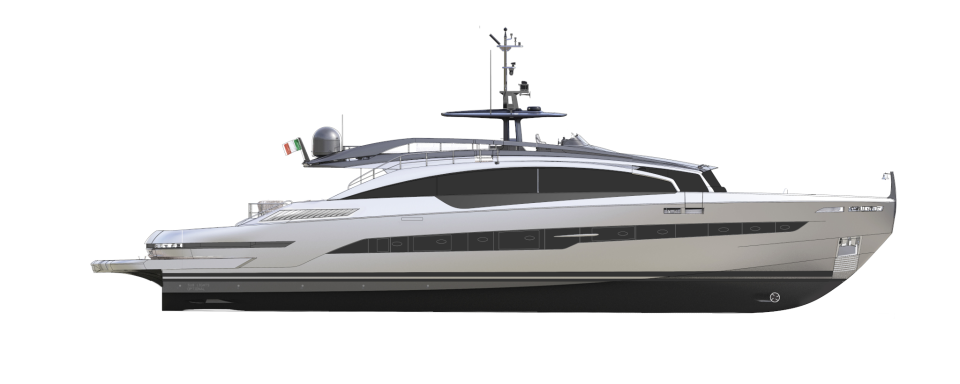 Torsten Sieckmann
+49 151 70 42 10 86
ts@sieckmann-yachts.de
Oliver Sieckmann
+49 175 33 55 55 2
os@sieckmann-yachts.de